Ronald M. Barron
Co-Founder & Of Counsel
Ronald M. Barron is co-founder and of counsel at Barron, Rosenberg, Mayoras & Mayoras. He has been practicing law for more than 46 years, and his focus is on probate litigation, trust administration, estate administration and commercial litigation. His clients range from Fortune 500 companies to small family-owned businesses and individuals. Although he is a fearless litigator, Ronald is also exceptionally compassionate with clients, and other attorneys frequently turn to him for advice, counsel and mentoring.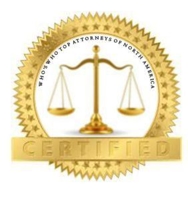 Ronald has the distinction of being in the Master Lawyers Section of the State Bar of Michigan, which is comprised of those in good standing who have been in practice and members of the Bar for at least 46 years. As an accomplished speaker and expert in the field, he has lectured for numerous financial institutions, insurance companies, and businesses and also appeared in various television and radio broadcasts. Throughout his illustrious career, Ronald has received numerous awards and has been named in various publications in recognition of his success in the legal field, including the receipt of the Client Distinction Award by Martindale-Hubbell presented to less than 1% of attorneys in the nation. This esteemed award is a recognition by one's clients in the following categories: communication, responsiveness, quality of service, and value. Additionally, he was listed in Best Lawyers in America® for Litigation – Trusts and Estates in 2019 and he was awarded top lawyers in 2018 for Estate Planning Wills and Trusts.
When he is not working, he enjoys traveling, mountain climbing (including reaching the peak of Mt. Kilimanjaro), biking, reading, and spending time with his grandchildren.
Practice areas
Probate Litigation
Trust Administration
Estate Administration
Commercial Litigation
Contracts
Education
J.D., Juris Doctor, Wayne State University Law School
B.A., Bachelor of Arts in Political Science, Michigan State University
Jurisdiction
Professional & Bar Association Memberships
State Bar of Michigan, Master Lawyers Section
National Council on Aging
Michigan State Bar Association
Michigan Association for Justice, Sustaining Member
Former Member of Legislative Committee sponsored by Financial Institute Bureau to revise existing lending laws
Former member of Wayne County Advisory Board
Elder Law and Disability Rights Section of the Michigan Bar
Probate and Estate Planning Section of the Michigan Bar